God, I love Maine. I mean, I
really
love Maine. And this past week only enhanced my love for the state. The Boy From Work was here for a spring vacation, and we used our day to go up and down the coast, seeing and eating the best things along the way. We ate lobster in Cape Elizabeth and fried clams in Freeport. We ate chowder in Rockland
and
Boothbay Harbor. We saw three lighthouses and explored some of the sweetest, quaintest towns in the whole state.
But none were as sweet and as quaint as Owl's Head. It's a tiny town near Rockland, and one I probably would've never realized I needed to go to if it wasn't for the
Food Network's 50 States, 50 Burgers
project that named the best burger in each state. Maine's burger--the 7 Napkin Burger--sounded fabulous. Juicy. Drippy. Cheesy. Everything good in the world. And the fact that you could get those burgers to go and take them down the road to tiny Owl's Head Lighthouse for a picnic sounded even better.
And the BFW, who is always ready to go on a trip just to eat something delicious, was up for it. So we headed off for a day trip to Owl's Head and Rockland. We were going to eat lunch in Owl's Head, tour the lighthouse, then head back to Rockland for a trip out to the breakwater lighthouse and shopping in the sweet galleries and stores that line Main Street.
The 7 Napkin Burger is the brainchild of the owners of the Owl's Head General store--a place where you can get homemade burgers and chowders, cookies and whoopie pies. In the warm summer months, there are ice cream novelties to be scooped up. And if you just ran out of ketchup or toilet paper and don't want to travel back to Rockland to grocery shop, you can pop into the General Store for the necessities, which are arranged in the back of the shop, right behind the small eating area.
And that eating area was the cutest thing I'd ever seen. Big and small tables were covered with patterned vinyl table cloths and stocked with plenty of napkins--which you definitely need when eating the burgers. There were a few friends gathered at two of the tables next to ours, and it was clear that this was routine. This was what they did. They came to the store every day for coffee and a snack or a full lunch. When someone came through the door, they were greeted by name. The girls behind the grill--two nineteen year-olds in gym shorts--knew what to serve up for them. They settled in at their table to talk about the weather, to local school, their neighbors. It was so friendly and charming it made me want to lock my legs around my chair and stay there forever, even through the coldest months, when the town's residents would no doubt come through the door stomping off boots and rubbing feeling back into their hands before settling into their chairs for hot chocolate and a slice of crumb cake. I wanted to be one of those regulars worse than
anything
. Especially after the girls delivered our burgers, which oozed with ketchup and mustard and pickles and cheese. If someone had come into the store at that moment and announced they had a charming apartment for rent--one with a seaside view--I would've been on the phone with the movers, telling them to go on over to my apartment and pack everything up and move it on up the coast.
Of course, Owl's Head wasn't the only amazing place we visited while the BFW was in state. Here are some of the highlights: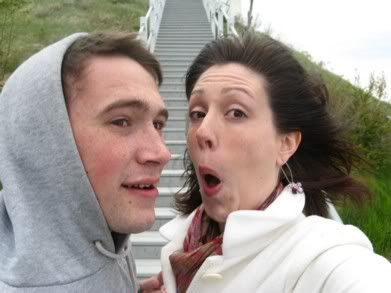 This picture was taken at Owl's Head light, which is right up the stairs behind us. As you can see, it was a windy, windy day. When you are planning on going anywhere near the ocean, you have to dress expecting it to be substantially colder than it is inland, especially in the spring. The wind comes in off the Atlantic and rips right through you. We chose a ridiculous day to tour lighthouses--especially one that is a
mile into the ocean
. Yeah, that's right. We traipsed along the Rockland Breakwater Light in those winds and almost had our ears torn off.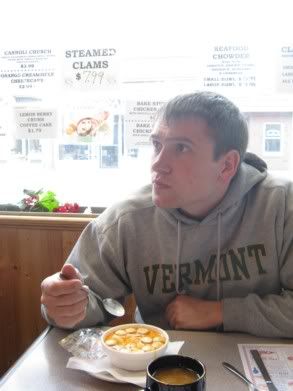 When preparing for a visit to Maine, it's best to fast for a week before your arrival. After all, you're going to eat a lot of seafood. A
lot
. Here's Ross with one of the chowders we ate over the week. It was good, but it wasn't nearly as good as the best chowder I ever had, which was served up at a tiny cafe in Damariscotta.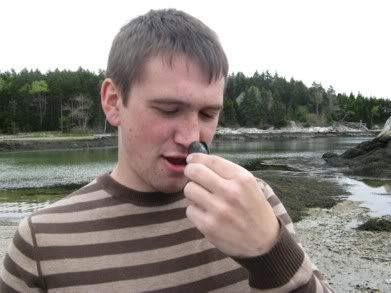 This shot was taken at Southport, which is a small island in the waters outside Boothbay Harbor. There is a tiny beach on the island, and we took off our shoes and walked across it, pausing to examine the millions of shells that were scattered across it. The BFW was very impressed with the purple mussel shells. (I'm pretty impressed with them, too. The insides are pearlescent and beautiful. I've got a bunch of them on my desk at school.) In fact, the BFW was so impressed that he took a closed one away from the beach with us. He wanted to see what it would look like it it opened. We both got a littl squirmy about that, though, when the mussel, which cracked open a bit while we were strolling through Boothbay, sucked back shut when the BFW tried to open it further to investigate. We left that thing in the parking lot. I didn't want anything oozing out of its shell on my car floor.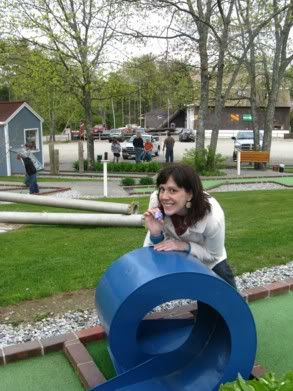 This right here is me in my moment of glory. On our way from Boothbay Harbor to Damariscotta, where we were going to eat dinner at the place with the best crab cakes in the world, the BFW and I made a pitstop to play mini-golf. I got a hole-in-one on a really hard hole. Because I am
awesome
.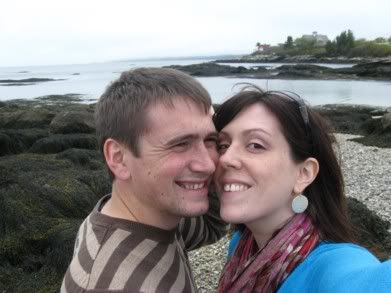 If you look in the background, you can see Hendrick's Head Light, which is in Southport. The gray areas in the photo? All shells. Beautiful, tiny little spiral shells I scooped into my hand and brought back with me. (Mine didn't have anything ooze-y living in them.)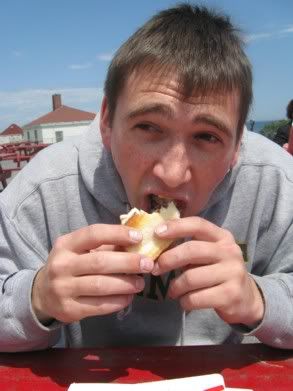 I could write poetry about The Lobster Shack in Cape Elizabeth. The poem would start by describing the beauty of the shack's location--on a granite cliff just above the waves of the Atlantic--and then move into the beauty of the shack's food, where lobster rules the menu. The Lobster Shack's lobster roll is my favorite in the state. But that's not the only thing that's good there. Clams, crab, mussels, whoopie pies--all delicious. But their strawberry-rhubarb pie? It's perfection.