Going home to Buffalo for Thanksgiving break means more than pumpkin pie, wine, and racist grandfathers. It also means this: The World's Largest Disco.
Every year, after we have spent the week stuffing ourselves and having possible run-ins with people we went to high school with, people who have come home to stuff themselves and have possible run-ins with us, we end up at The World's Largest Disco (yes, it's actually a world record), where we descend on the Buffalo Convention Center like some spangly, polyester-clad mob. It takes a lot of preparation. Some of us comb thrift stores and vintage shops; others haunt eBay. After all, there are afro wigs to buy. There are platforms to find. There are Farrah-flips to coordinate. Things need to be done so that when we walk through the doors and ride the escalator up into the giant, humid space, we fit in with the 7,000 people who are thrusting their pelvises to the beat of "Hot Stuff" or "Car Wash" all while drinking cheap boxed wine that they will later throw up into the garbage cans placed in strategic locations across the room.
This year, my preparation paid off. This year, I became famous. Why? Because I made the newspaper the morning after. Behold: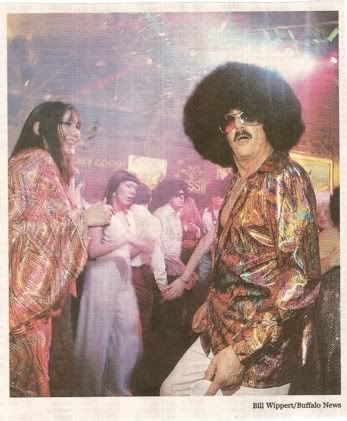 Okay, to be fair, I am neither one of the people featured prominently in this photograph. I am, however, the spectral vision directly behind them--the girl wearing the lavender pantsuit with crocheted top. Oh yes. It was a
sight
.
And in that picture, it might appear as though I am throwing down some fine disco moves, that I am hustling to the beat of "It's Raining Men." Or maybe it looks like I am sliding across the floor to get closer to (my secret crush)
Christopher Knight
, one of the Bradys who showed up as an emcee for the event. However, I am doing none of those things. Instead, I am being grabbed at by Steph, whose braceleted hand you can see reaching back for mine so I don't get separated from the group as we herd toward the bar for our own glasses of boxed wine.
Still, even though I wasn't doing anything interesting enough to be the focal point, the actual reason for the shot, I feel pretty honored to have made it into the paper at all. That pantsuit sure did right by me.
And if you want to see more 1970s fashions from our group, here are the girls: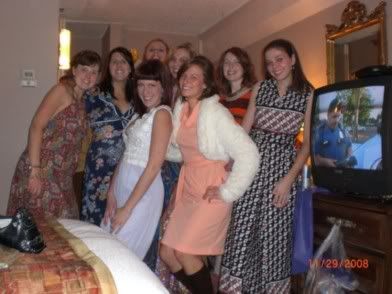 And here are the boys: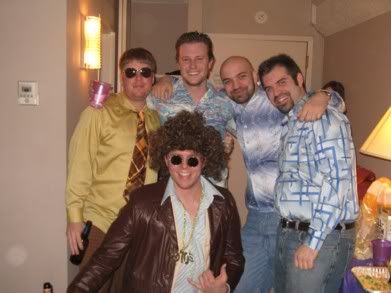 You should've seen us strut during
Stayin' Alive
.