The night before my parents announced they were divorcing, I dreamed of tornadoes. The night before Ex-Keith revealed that he'd cheated on me, I dreamed of tornadoes. The dreams of wind, of lighting, of thunder, of the earth being sucked into the sky, come before tragedy or during tragedy.
Last night I dreamed of tornadoes. More than usual. The usual is one. One skinny, whip-like, terrible finger of wind reaching down to touch grass and water and brick. Last night, I dreamed of
many
.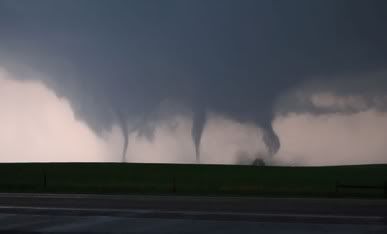 One, two, three. They all reached down to earth and moved toward me. Fast. Unbelievably fast. The only building in which to seek shelter was a barn, and the barn was missing one of its walls. I screamed and screamed and screamed and tried to get everyone else into the barn, but I knew it was no use, the tornadoes were coming, and they wouldn't be stopped by a barn with only three walls.
Later, after the people I was hiding in the barn with got sucked into the sky, I dreamed I could no longer fit into the shower at my apartment. I hadn't gotten bigger; it had gotten smaller. It was shrinking and shrinking and shrinking. I had to shower quickly or else I wouldn't be able to get out. And the problem was I needed to be clean and I needed to be out of the shower because I was about to go to prom. Prom. And then after I escaped from the shrinking shower, I dreamed that my best friend had brought me yellow shoes to wear to prom when I had a purple dress.
And here's the thing: I'm not exactly sure if these disasters speak to the disasters that have already come or the disasters that are ahead. It's that second possibility that scares me. An awful lot.