Here's where I spent my Labor Day: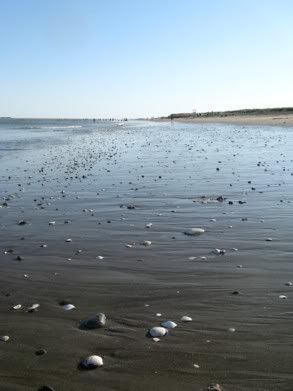 I got to the beach maybe two hours after high tide, and I stayed for hours, writing, reading, and marveling at how much the landscape changes as the tide goes out again. Near the end of my stay, the beach was littered with shells, which is the way I prefer it. There's something about a beach full of shells that
insists
that people--grandmas, toddlers, tough biker guys--look down and search the scene as they pass over it. What everyone's really looking for are
sand dollars
--the prettiest of everything that gets washed up--but there's plenty of other shells to be found.
I spent an awful lot of time this summer walking up and down the beaches of Maine. In fact, I was a regular beach bum. My job this summer was simple: I was paid to relax, to write, to read, to brush up on being a good teacher. And I did all that. I relaxed. I wrote. I read. I found the joy in teaching again. And I managed to do a good chunk of that on the beach.
Today I drove out to my favorite beach, treating it like it was the last time I'll see a beach for a long, long time, like when I wake up tomorrow it will be mid-December, and there will be snow up to my knees. (The snow thing is unlikely; also, there are already beach plans for next weekend.) But my trip was mostly symbolic: it was the last trip of my honest-to-goodness summer. Tomorrow afternoon marks the start of my college's fall semester. Tomorrow I will meet my literature class and one of my composition sections. Then, on Wednesday, there will be more composition and my creative writing class. I've got a
really
great semester lined up, schedule-wise, and I'm teaching some great classes.
I'm sad my long, beautiful, lazy summer vacation is over, but I'm not sad school is starting back up. After all, I've got a stack of new folders, notebooks, staples, and paperclips sitting on my office desk--and we all know that a lot of the beauty of a new semester is in the hope and anticipation that seeps out of school supplies, infecting us, infecting everyone, and making the whole world seem good and full of possibility.
Here's hoping.