She's here. Abbey and her pink nose, her tabby stripes, her freckled toe-pads. She's here, and she's
adorable
.
Here's what I know so far about my cat: I know she likes my boyfriend better than she likes me. The day I brought her back to my father's house for a night before driving back to Maine, she immediately crawled under the couch and wouldn't come out. She burrowed in the back and cried if ever I tried to coax her out. When the Boy From Work came over after his shift at the restaurant, he said a few kind words to her, scooped her up, and kissed-kissed-kissed her. From that moment on, Abbey was his best girl. She climbed all over him. She curled up on his back. She let him hold her in the palm of his hand. She was excited every time he lifted her into the air and flew her from one place to the next. She watched the Olympics with him, curled into his side, purring.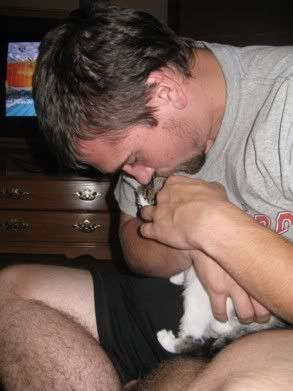 Here's what else I know about my cat: she's an itchy-twitchy-jumping machine. She loves to climb. She has no fear. She doesn't even mind that jump she tried from the bed to the bookshelves, the one that failed and had her falling to the floor in a tangle of still-uncoordinated limbs.
Abbey is wobbly. She is startled by shadows. She is still getting used to the hardwood floors of my apartment and how they affect her gait, her balance, her ability to stop. She skitters, she slides, she swoops from one room to the other in search of her crab, her lobster, her catnip-filled leopard-print mouse. She loves ribbons and wires. She loves the pillows on my bed.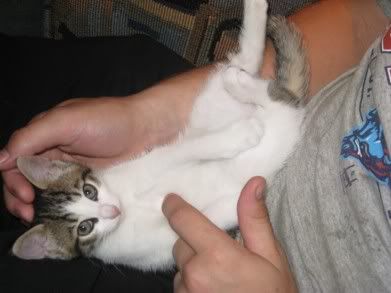 Abbey's newest favorite thing to do is stick her head into the foot of my slippers and drive them around my bedroom floor. Before that, her favorite things included leaping at my window screens and balancing on the top of my mini rocking chair.
Abbey is a napper. She loves to sleep on her stomach, her feet kicked up to the ceiling. She loves to sleep in the warmest, smallest crooks of a person's body, and for the past two nights I have woken up to her nestled in the angle of my arm. Sometimes she'll drape herself around my neck like a scarf, and other times she'll wedge herself between the two pillows on my bed and tip her stomach upward so she sleeps looking like a baby, a human, a little girl.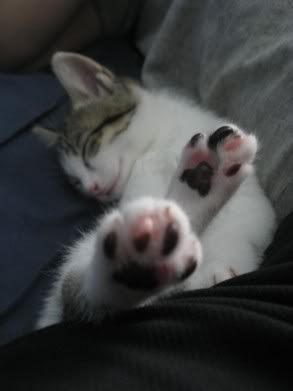 But--most importantly--I think she is beginning to love me. I think she is beginning to see that I'm an okay kind of girl, that I hated to take her away from her mother, that I'm going to spend the rest of her life making it up to her. I will let her sleep on my neck, on my back, on my arm, on my stomach--wherever she wants. I will barely move in my sleep so I don't upset her. I will turn my music down when she's napping so she isn't bumped out of dreams. I will do all these things because I'm beginning to love her, too.
Oh, who am I kidding? I loved her a long time ago.