I don't like physical activity.
It's true. Ask anyone who's known me for more than two years. I've never been a fan of anything that requires me to
A.)
get off my ass and
B.)
take a brief hiatus from eating in favor of doing something athletic-y. (For
example
.)
Still, last year when I moved home from Minnesota I was pretty angry. I was pretty depressed. I missed grad school and my grad school friends. I missed the Wily Republican, and I hated the Wily Republican. My head was mixed up and hateful. It was downright evil in there. And because I didn't know what I was doing or thinking or feeling, and because I knew I had a whole lot of stuff inside me that needed to be released, I climbed up on some contraption my father had in the basement and I ran, ran, ran.
Or
sort of
ran. This machine wasn't a treadmill or an elliptical or any serious piece of exercise equipment. It was something that glided and let me fake-run, which was all I really needed--the
feeling
of running, not the actual running. I got to glide, glide, glide and pump my arms and stew.
I hate everything,
I thought.
I hate boys, I hate growing up,
and
I hate that I didn't get a full-time job like I was supposed to
. All this while watching Rachael Ray, who I sometimes like but mostly loathe, on a TV Dad had rigged up in the basement.
Then there came a point when I wasn't all that angry anymore and I felt less like running, but even after that I kept on--mainly because I read an article in
Good Housekeeping
that talked about how much wider a person's blood vessels got with one hour of exercise per week. Those wide vessels could do a lot for you, the article said, so I thought,
Well, okay. Why not?
And it was more than the blood vessels. I'm not going to lie: there were times when
Josh
would come home from his travels abroad and we'd go drink at our ex-place-of-employment, particularly in some dark back room of our ex-place-of-employment, and this would eventually lead to Josh kissing on me, to him touching my sides and hips and back, and saying nice, nice things about those areas. That, too, was a pretty decent side effect of all that glide-running. Compliments
and
improved blood vessels? How could a girl argue with that?
But when I moved to Maine, I lost the contraption that had somehow wandered its way into my father's basement because there was no longer room for it at his girlfriend's house. And I guess I'd underestimated the part it played in my stress management over my year at home. After all, there were some not-gorgeous moments in those first few months at home--and here I am thinking of October, when, as I was cutting vegetables for a stuffing I was making for dinner, I fielded a phone call from the Wily Republican, who chose that exact moment to tell me that his girlfriend had moved into his new house, even though he'd recently laughed when I'd predicted it would happen soon. (
No way,
he'd said, and,
Hell no. This is MY house. MINE.
) I was cutting carrots when he told me the news, and I had to put the knife aside, saying, "Do you think that's a wise thing to be telling me when I have a sharp object in my hand, Wily?" And then I went and opened a bottle of wine and drank several glasses while he finished telling me about it.
During those kinds of moments--moments when I slipped back into that easy anger--I knew I could always get up the next morning, put Rachael Ray on mute, stick my MP3 player in my ear, and twist myself on the machine until I felt less like putting my head through a wall.
So it helped with boys, and it helped with students, too. Last year I taught four sections of composition in a row, with no break. That was alright by itself, but when I had four sections of classes turning in papers at the same exact time I got a little wiggy. My father knew to stay away from me when the stacks of papers showed up on the kitchen table, accompanied by a pound of M&Ms or a sack of bulk
sponge candy
. A girl can handle only so many comma splices in a row--especially when she'd just taught a special (witty! fun!) grammar lesson that was titled "How to Identify and Fix Comma Splices in Your Papers Before You Hand Them In."
I had two choices when marathon grading sessions rolled around: I could repeatedly bang my head on the table OR I could go downstairs and fake-run for twenty minutes while Justin Timberlake
thumped
in the background. I often did both. A steady stream of head-pounding, chocolate-consuming, and fake-running was usually the combination that made me feel like I could face my students without giving them a seriously evil eye.
But I don't have that option in Maine. I can thump my head and consume lots of chocolate, sure, but I can't fake-run. And I think that's partly what's to blame for my body's strange early fall
meltdown
. I took all the stress of moving, of having to clean and furnish an apartment in a ridiculously short period of time, of teaching a full load of classes--some I'd never taught before--of trying to fit in, of
hoping
I'll fit in, of missing everyone back home and in Minnesota, and I put it all on my neck and shoulders. I tried to hold it up the best I could, but I'm not as strong as I'd like to think. The weight of all that was a little too much, and part of me sort of imploded.
And I'd like for that not to happen again. So, based on the suggestion of both the massage therapist and my doctor, I sought out some means of relieving my stress. I asked Pedro--gay, sassy, mocker of my insistent love of bacon, a boy in-tune with all things fit and natural and good for the body--what I should do.
He did not hesitate. "Take a yoga class," he said. "It does wonders."
I told him that under no circumstances would I be enrolling in a class. I told him he didn't understand, couldn't
possibly
comprehend how woefully inept I am in the coordination department. I can think,
Body, do this thing
, and my body will do the exact opposite of that thing. I was not about to showcase my lack of strength, flexibility, and balance to a class full of perfectly strong, flexible, and balanced people, no matter how warm and fuzzy the class atmosphere was.
"You don't understand," Pedro wailed. "The classes are supportive! The teachers will help you! Your classmates will be sympathetic!"
I told Pedro that I wasn't ready for any of that. I didn't want anyone going home and giggling about that poor girl who couldn't do the poses. There would be no classes for me. None.
"Fine," he sighed. "Well, there isn't a yoga DVD out there that I like, but I can tell you that I love Pick Your Spot Pilates--it's one of those Crunch Fitness things."
Great. Perfect. Lovely. Pilates. Fine. And on his suggestion, I went and checked out that DVD, which led me to several other Crunch DVDs. There were things like Booty Boot Camp, Cardio Salsa, Cardio Yoga, and others that featured peppy-looking instructors posing in skankish clothing. I already hated it. And I was already scared of the pilates DVD that Pedro had suggested. I didn't understand half of what it said in its description, which I took as a bad sign. After all, my working knowledge of pilates (or anything remotely related to exercise) was limited to what I'd heard some of my friends say about it. In grad school, Greg, whose sister is a yoga instructor, mocked it. Some of my New York friends, though, swore by it. I didn't know what to think.
And because I was so up in the air about the pilates, I decided to start small. I ordered a cardio fitness routine because I figured I'd be able to do all the dopey bounces and flounces it required. I'd look like a fine idiot doing it, but I'd be
able
, and I wasn't exactly ready to say that about pilates just yet.
What I got was Crunch's Cardio Go-Go Dance. It had glowing reviews on Amazon, and it sounded like the routine might actually be cute and fun. The cover showed me a hot long-haired instructor wearing hot pants. I would later learn that her name was Gypsy, and this would be the first of many things about Cardio Go-Go that made me want to put my finger in a light socket.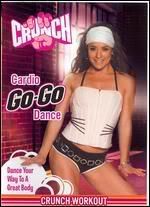 I got the DVD in the mail while the Boy From Work was visiting. We sat together on the edge of my bed to preview it, to see what it was all about. When I skipped ahead to the first frame I immediately wanted to throw up. The music was cheesy, and Gypsy, while lovely and adorable, spoke with a chirppy voice that was supposed to motivate me. Oh, it motivated me alright--it motivated me to turn to the BFW and say, "Oh God, what have I gotten myself into?"
The first time I attempted the routine was a disaster. Thank God for the privacy of my home. Thank God for the thick black curtains in my bedroom. Thank God the BFW was far, far away and not at all able to see his girlfriend kicking around the room like some wounded forest animal. At the end of it all, I'd worked up a sweat and realized I was even more uncoordinated than I'd originally thought. I had no grace whatsoever. I could not, could not, could
not
do some of the steps to save my life. Like the pony step, whatever that is. There was a point in the exercise where Gypsy asked the girls if they remember the pony step, and the girls--who, it must be noted, wear
hideous
bright-colored spandex outfits (except for the one fat girl who was forced to wear a ton of layers to cover herself during the video's taping)--all yipped back at her: "YEAH! YAY! WOOOOOO!"
And there I was, standing with my arms at my side and thinking,
The pony? What the fuck is that
? And suddenly, without any explanation, the girls were hopping around from one foot to the next in some way that looked pretty normal and easy, but when I tried to do it, I felt like some big flapping walrus that had washed up on shore and was too lazy and lumbering to make it back to the water.
It took two weeks for me to get it together and figure out a way to "pony it out" like Gypsy suggested. And every step of the way I hated her, and I hated her little neon chippies, especially the ones she called
Suzie-Q
and
Nana
. I often found myself thinking,
Oh, fuck you, Nana. Fuck you, Suzie-Q. You're wearing silly outfits!
as I puffed along the best I could.
The DVD and I have now found peace with each other. We've formed a truce of sorts. I do it, and sometimes I even like it. I've accepted Gypsy's irritating voice that peppers encouragements like,
Oooh, that's cute!
and
You're so sexy, ladies!
into the workout. I've stopped thinking,
Are you kidding me? Do you see how ridiculous I look right now?
Instead, I now just do the hops, skips, jumps, and cha-cha-chas (the only thing I was good at from the beginning) without grumbling. And I secretly wait for those moments in the DVD that are my favorite--like the moment Gypsy says, "Alright, come to me!" as her army of bobbleheads advances on the cha-cha-cha. When it's time for me and the bobbleheads to reverse our steps Gypsy says, "Now go away!" in what comes out as a fake Russian accent that reminds me of Boris and Natasha. (
Now go ahhvayy!
) I have no idea if she was being purposefully cheeky there or if it was just what happened out of her mouth as she was trying to breathe. Either way, I love it, and I giggle every time I hear it.
Oh, Gypsy,
I think.
You're a trip.
And she is. She is a trip, and so am I. It's still funny to me that I'm doing this, that I'm committing to getting up on my days off and starting my morning with a forty-four minute workout that features moves like go-go flicks,
go-go eyes, and "the swim."
All of this in name of no stress on my shoulders. And I suppose it's worth it. It is. Anything is better than waking up in the morning and thinking,
Oh God, how am I going to back my car out of the parking lot when I can't turn my neck
? Yes, anything--even Gypsy and Nana and Suzie-Q with her silly bright pants--is worth having my neck back.