This weekend I went to
Freeport
.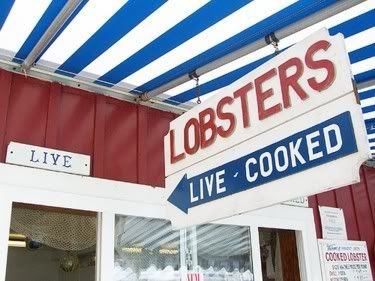 Freeport
is home to the flagship LL Bean store (and a
giant boot
). It is also home to gorgeous state parks, dozens of seafood carts, and outlets for stores like
Burberry
, J. Crew, Banana Republic, and
Abercrombie
& Fitch. And even though it's an outlet-town, it's very anti-outlet mall. It's not like those monstrous buildings that pipe in Michael Bolton's greatest hits and have food courts that boast
Sbarros
and Chinese restaurants that sell dry fried rice. In
Freeport
, all the outlets are housed in old buildings made of brick. The side streets are winding, the visitors speak mostly French, and there's the distinct smell of ocean in the air.
I spent half a day in the town, going from store to store, sneaking down alleys, ducking inside a coffee shop for a mug of
chai
. I considered buying lobster-shaped potato peelers and moose magnets. I dug through bins in the Banana Republic store so I could outfit the Boy From Work. It was the most lovely way to spend an afternoon, and I only scratched the surface of the town.
I didn't go to the wharf, to the ocean. I didn't stand on the rickety wooden docks and watch the sailboats leave for a day out on the water. I didn't watch people unbuckle their kayaks and ease them into the bay. But I will. I have an awful lot still to see.
And eat.
Tucked in alcoves every few hundred feet was another sidewalk stand selling portable snack food. If I were in New York City, they would be selling
hot dogs
or pretzels or hot nuts. But I wasn't in New York City. I was in
Freeport
, Maine, and these vendors were selling
lobster rolls
, crab rolls, and fried clams. I'd just eaten right before getting to
Freeport
, but every time I passed one of those stands and inhaled their salty steam I wanted to fork over all the money I had to get just a bite, just a nibble.
By the end of the day I was feeling relaxed and perfect and, despite stuffing myself before my arrival, starving. I left wanting more than ever to buy all my clothes at J. Crew, to dress myself in tweed, to come off looking smart and like I belonged to the
Kennedys
. By the end of the day I was so impressed and
ensorcelled
that I wanted to buy up all the argyle in the town. I wanted to soak large pinkish-red chunks of lobster in miniature vats of melted butter. I wanted to drive home along the winding river road, my car singing over the country asphalt, and I wanted to think, "I could do this every weekend."
And that's exactly what I did.